Brachytherapy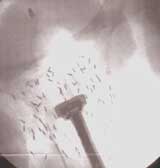 MOSFETs are used for a number of different types of Brachytherapy dose verification applications. Whether interest lies in dose to the tumor or there is concern for organ sparing (e.g. rectum, bladder, urethra), the small size of the dosimeter and ease of reading enables the user to carry out measurements that are impossible or cumbersome with other dosimeters. Measurements of brachytherapy source uniformity can be realized with these small dosimeters. Choose from the standard size or micro size.

The standard MOSFET is used for HDR rectal and gynecological dose measurements. It can also be used to measure skin dose during MammoSite Treatments. The microMOSFET is small enough to fit down a 6 Fr. Brachytherapy needle and measure in vivo dose.

The Linear 5ive MOSFET Array is ideal for measuring urethral and bladder wall dose during Brachytherapy treatments.
Our latest software development on the mobileMOSFET System further enhances the capability for real time dose measurements during Brachytherapy procedures, in both LDR and HDR. In conjunction with the Linear 5ive MOSFET Array Dosimeters, the software can provide simultaneous dose read out of several spatial points of vital organs.
For more information on the Linear 5ive MOSFET Array Dosimeters, please click here.