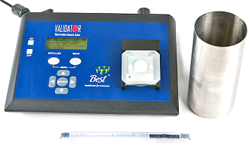 Validator
Blood Irradiation Dosimetry System
Click here to download the PDF brochure for this product.
The VALIDATOR, model TN-ID-60, is an economical, compact, and stand-alone dosimetry system for measuring and recording absorbed doses in blood irradiators.
This easy-to-use system enables technicians to immediately verify the minimum absorbed dose delivered to blood or research specimens, providing an important quality assurance tool for medical and research applications.
The VALIDATOR Dosimetry System consists of a set of replaceable dosimeter sensors, a radiation-resistant plastic holder module, and a compact desktop reader. VALIDATOR Connect software for data transfer to a PC and reporting is also available.
Dosimetry data is available at the touch of a button, and displayed on the LCD screen, with no need for software. The VALIDATOR supports MOSFET dosimeters with two different sensitivities (TN-502P and TN-252P). For each measurement, dosimetry data is automatically stored in memory for later viewing, or downloaded to a computer via a USB connection. A simple menu-driven interface allows customization of user parameters.
Irradiation centers can utilize the VALIDATOR for quality assurance of blood irradiation processes by measuring the minimum dose.
Features
Compact reader with LCD display
Quick set-up time
Immediate dose verification and readout
Simple menu operation
Two MOSFET sensitivities
Data export via USB for dose reporting
Reliable, accurate and reproducible
Radiation-resistant dosimeter holder
Keypad technology for easy cleaning
Applications
Quality Control and Assurance of Blood Irradiators
Minimum dose measurement for Gamma or X-ray based irradiators
Dose reports and electronic records
Dose Verification in Research Irradiators
Immediate dose verification for irradiated specimens
See Tech Note 9 for more information on the use of the Validator Dosimetry System for QA & Quality Control of Blood Irradiators.